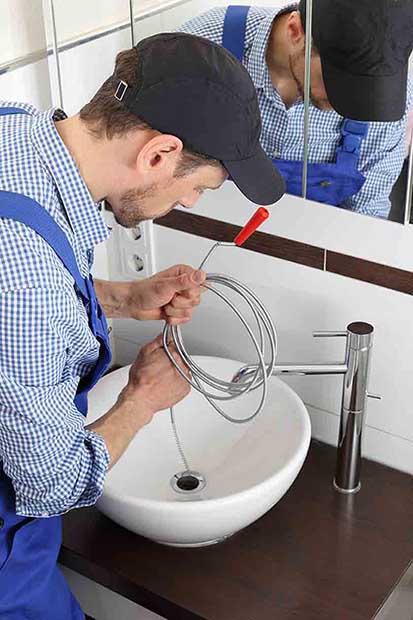 If your kitchen or bathroom is plagued by slow-flowing drains, the team at Rol Air Plumbing & Heating may be able to help. Our professional drain cleaning in Zimmerman, MN has already benefited many of your local friends and neighbors, and our team would love the chance to add your name to our long list of satisfied clients.
Our Drain Snaking Process
Drain snaking and hydro jetting are among the most common methods that we use to clear out backed-up plumbing, but the two processes differ significantly. Hydro jetting gets the job done with a directed stream of pressurized water while drain snaking employs a tube, chain, or rod to remove the clog.
Easy to Perform
Drain snaking requires very little equipment and can be a highly effective means of clearing out even a stubbornly clogged drain. The process is also safe for use on most types of plumbing.
Fast Results
Thanks in part to our rapid mobilization and speedy post-job clean-up practices, snaking is one of the fastest types of drain cleaning services that we provide. The process itself is also relatively quick to carry out.
No Chemicals Needed
Our drain cleaning company is strongly committed to protecting the natural environment as well as the clients that we serve. Snaking does not necessitate the use of dangerous drain cleaning chemicals, and that's why it's a perfect fit for our team.
Call to Schedule an Appointment Today
Contact Rol Air Plumbing & Heating to get in touch with a reputable, reliable plumber. We'll respond promptly to your call for service, and we'll book an appointment with you for the day and time that you find most convenient. We care more about your drains, so don't think twice about getting in touch with us.
Looking to keep your home healthy and save money? Check out the Rol Air Total Home Care 365!