First Class Water Heater Repair in Zimmerman, MN, and Nearby Areas
If your water heater isn't working, it impacts your life in ways you might not have considered before you noticed the problem. You may find that you can't wash your clothes, clean your dishes, cook certain meals, or relax in a nice, hot shower. Living without these things can be stressful, but it doesn't have to be with our range of plumbing services.
Instead of stressing, call in an expert plumber from Rol Air Plumbing & Heating. That's right, we have some of the best plumbers in the northwest Twin Cities area. We'll come out and take a look at your water heater. No matter what you need, we'll get the job done as soon as possible so you don't have to live without hot water for very long. Call us to make your appointment today.
The Expert in Water Heater Repair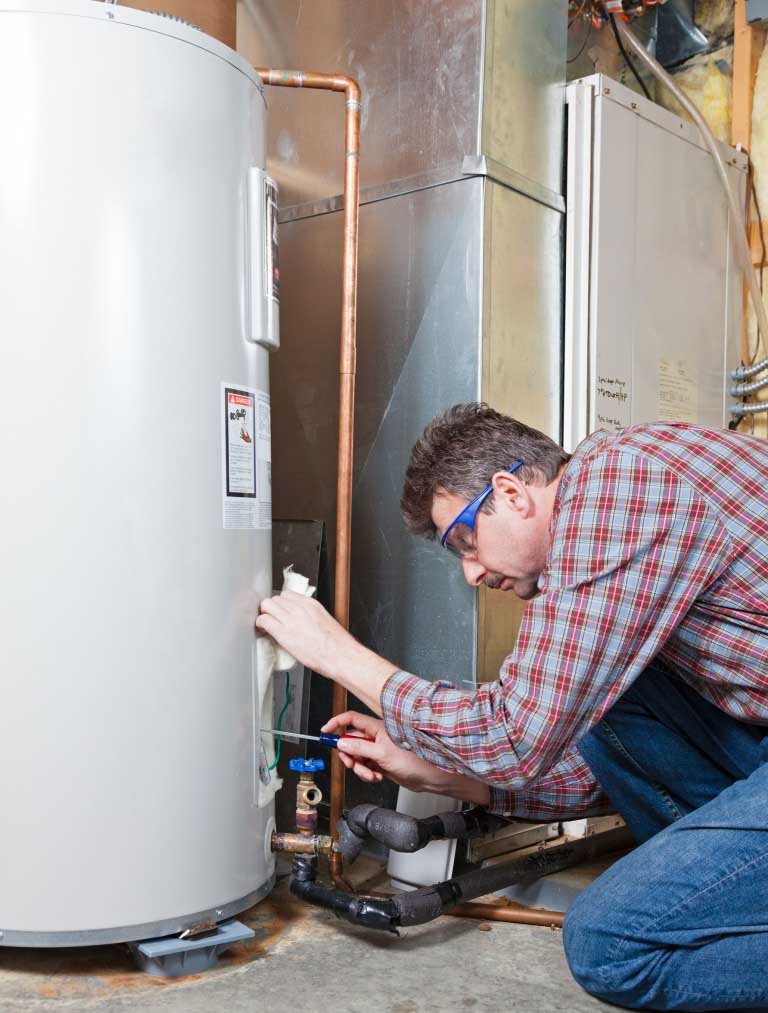 If your water heater is broken, we'll fix it fast thanks to our professional plumber in Zimmerman, MN, and nearby areas. We'll talk to you about what you're experiencing because that will help us determine exactly what has gone wrong. Then, we'll take a look at the water heater itself. We'll test and troubleshoot until we know exactly what needs to be fixed. Only then will we come up with a plan to repair your water heater and get your hot water back to normal.
We specialize in:
Professional Water Heater Replacement
Sometimes, it's better to do a water heater replacement than to attempt a repair. Your water heater may be beyond repair, or the repair may be more expensive than simply replacing the entire thing. If this is the case for you, we'll let you know, then help you find the best possible water heater replacement for your family and your home.
We'll make sure we get you a water heater that is the type that you prefer. If you have a gas or electric tank heater and you're happy with that, we'll help you get one of the best ones on the market. If you are interested in a tankless water heater, we'll talk to you about how those work and whether one might be the right choice for your home. No matter what type of replacement you choose, we'll get it installed just right, the very first time!
We Ensure Proper Water Heater Installation
Are you in the market for a new water heater? Maybe you need one that is larger because your hot water needs have changed. Or, maybe, you want a tankless water heater because you've done your research or used one somewhere else and it seems perfect for you. No matter your reason for water heater installation, our reliable plumbing company will get the job done fast.
If you're installing a tankless water heater or switching from gas to electric, the installation can get a little trickier. That's ok! Our plumbers will complete the work themselves and get it done just right. We take full responsibility for making sure your new water heater gets installed perfectly!
When everything is back together again, we'll test your new water heater to make sure it's working well. We'll let you test it, too. If you're not completely satisfied, we'll go back to work until things are working the way you need them to work to live well in the northwest Twin Cities.
Whether you need water heater repair in Zimmerman, MN, and nearby areas, water heater replacement, or installation the plumbers from Rol Air Plumbing & Heating will help you get the job done right. We'll work quickly and efficiently to ensure your hot water comes back as soon as possible. We promise to keep you updated throughout the process, too, so you will always know exactly what comes next.
Why Choose Us
Rol Air Plumbing & Heating is the trusted name for water heater repair service in Zimmerman, MN. We treat customers right by paying attention to the details that matter most. With water heater repair, this includes removing the old water heater if necessary and offering advice on how to keep your new water heater in good shape. Our technicians are friendly, knowledgeable, and prepared to leave you gladly recommending us to friends and family members.
As one of our valued customers, you can expect:
Timely arrivals
flat rates
Honest and accurate pre-work evaluations
Water Heater Repair FAQs
If you have a traditional water heater, the average lifespan is 10 to 15 years. With a tankless water heater, however, you could enjoy 20 years or so of fresh, reliable hot water. You can effectively boost its longevity with regular water heater maintenance.
Get in Touch with Rol Air Plumbing & Heating Today!
Call us today or fill out our online form for water heater help or emergency plumbing today! We look forward to meeting you soon. We provide an array of quality water heater services in the following areas:
From Water Heater Installation to maintenance and repairs, Rol Air Plumbing & Heating is the name you can trust for top-quality services.