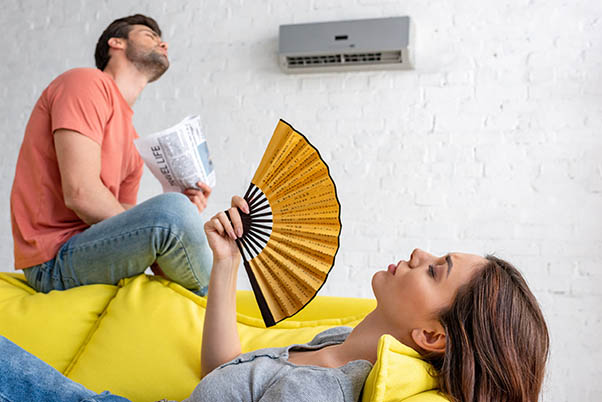 One of the common reasons to contact Rol Air Plumbing & Heating about air conditioning repair in St Michael, MN is because of an AC that's blowing hot air. Aside from being a major inconvenience on hot, humid days, it's also a comfort-related issue with many possible sources. We go over some of the possible reasons why your AC may be blowing hot rather than cooled air below.
Thermostat Issues
Thermostat malfunctions are a possible reason why your AC may be blowing hot air. Also, double-check to make sure your thermostat is set "cool" rather than "heat" and that "auto" is selected rather than "on," which will make the fan run even when the unit isn't cooling.
Problems with the Outside Unit
If there's a clog in your outside unit from leaves and other debris, your unit may have trouble removing heat, which could leave you with hot air blowing throughout your home. Routine air conditioning maintenance that includes inspecting and cleaning the outside unit is one way to prevent this problem.
Hot air may also be related to issues with your outdoor unit involving loose connections, mechanical issues, and loss of power to the outside unit
With more significant outdoor unit issues, air conditioning replacement may be worth considering. This is more likely to be recommended if mechanical issues are found, or if various components within the outside unit are worn or damaged.
Dirty Filters and Evaporator Coils
Another possible reason for hot rather than cool air coming out of your vents is a clogged or blocked filter. A dirty filter can also affect your system's evaporator coil. This is why coils should be cleaned when the filter is replaced.
Low Refrigerant
Lastly, low refrigerant can also affect how well cooled the air that flows into your home is at any given moment. If you have a refrigerant leak, you may hear a hissing sound or see frost or ice on indoor or outdoor components.
From air conditioning installation to routine maintenance and repair, Rol Air Plumbing & Heating has all your comfort needs covered. Our seasoned technicians will arrive promptly to size up the situation and recommend a sensible, budget-friendly solution.
Contact our local team today for prompt, reliable air conditioning services in St Michael, MN. Feel free to call us or fill out the form to schedule an appointment.
Looking to keep your home healthy and save money? Check out the Rol Air Total Home Care 365!