Right now, the first 20 customers to buy a new Bryant Furnace from Rol Air (92% efficiency or higher) or boiler (82% efficiency or above) will receive  a $150 Amazon Gift Card as a thank you from Rol Air. 
Additionally, that savings can be combined with 2018 rebates from Centerpoint Energy for up to $550 savings on a new high efficiency furnace or $650 savings on a new boiler (see details below).* 
*Offer good in NW Metro area, and cannot be combined with any other offer.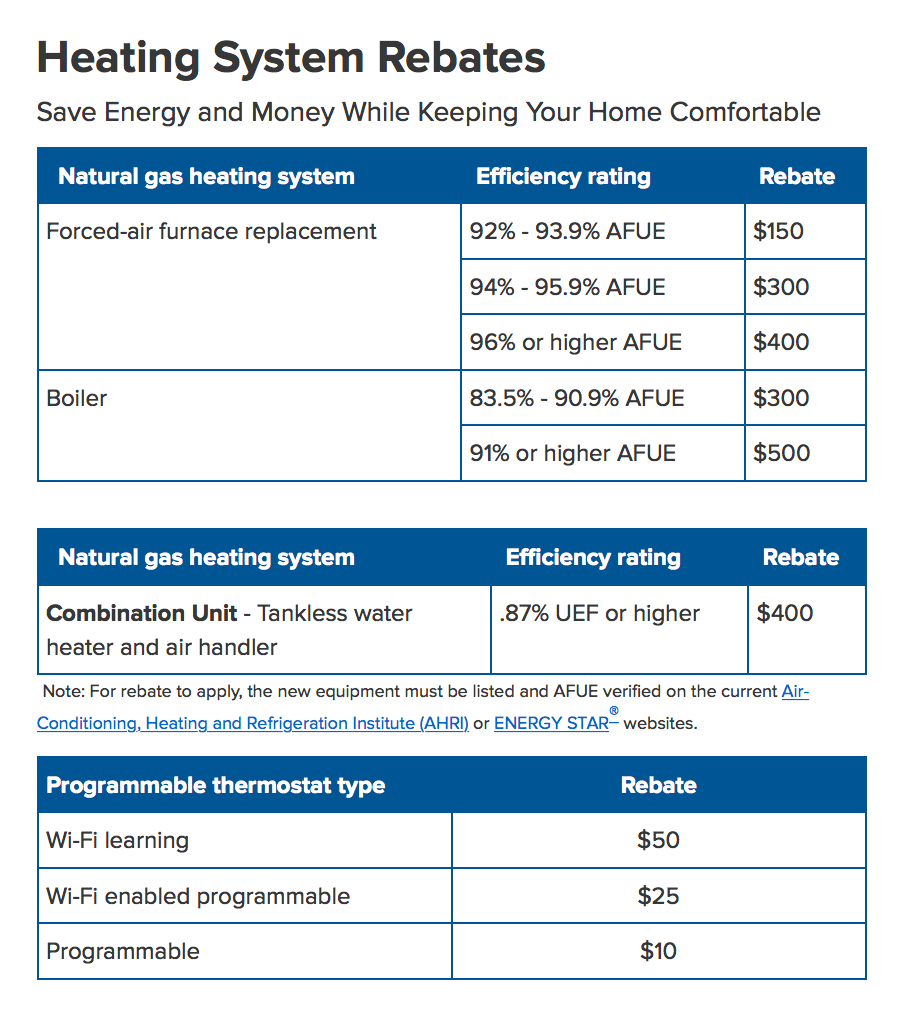 Centerpoint Energy Rebates – Now through 12/31/18.
CenterPoint energy also has a new thermostat rebate program as well (see image).
CenterPoint Energy Rules and Regulations:
Thermostat requirements:
You, the customer, can install the thermostat or your heating professional can and you will still receive a rebate.
Used with natural gas furnaces for primary heat
Currently manufactured: examples of eligible thermostats
Programmable
How the Program Works
Buy and install the best qualifying heating system for your home between Jan. 1 – Dec. 31.
Have your heating dealer submit a rebate application for your installation (including electronic copy of the dated invoice) through our online rebate processing system.
We'll notify you when the rebate application has been submitted and again when payment is approved. Note: providing your heating dealer with your email address allows for faster notification.
Receive your rebate check within eight weeks of when we get the completed rebate application.
Please note: This rebate offer is only available for Minnesota residential heating customers who receive natural gas service from CenterPoint Energy. Rebates are paid on a first-come, first-served basis.
All rebates must be submitted by Dec. 31, 2018.
– See more at: https://www.centerpointenergy.com/en-us/residential/save-energy-money/efficiency-programs-rebates/heating-system-rebates?sa=mn&gclid=Cj0KCQiAv_HSBRCkARIsAGaSsrDLurK5Hp09c55PyYOq5UsuKv33qye6jxb1psI_TSWG-7tKjNxgeDIaAjZeEALw_wcB#sthash.QcBZUh9d.dpuf
If your furnace isn't keeping up or is in need of replacement, now is a GREAT time to buy a new Bryant home furnace or boiler.
Looking to keep your home healthy and save money? Check out the Rol Air Total Home Care 365!