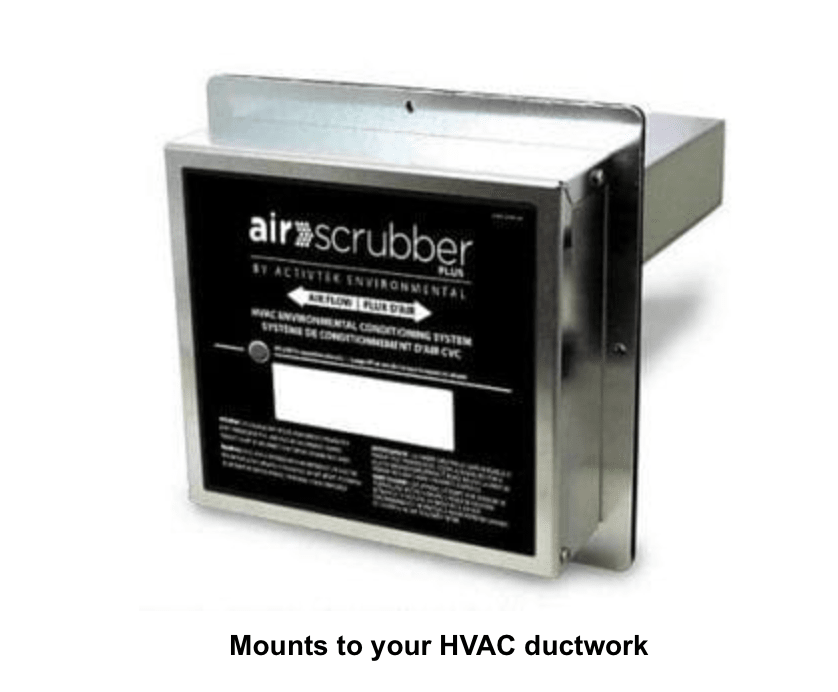 The Air Scrubber Plus® attaches right into the ductwork of your furnace and is a great way to improve the indoor air quality in your home by doing these four things:
Removes Odors
Reduces Pollutants
Relieves Allergies
Protects Equipment
It reduces air pollutants, VOCs (chemical odors), cigarette smoke, dust, pollen, mold, odor-causing bacteria, and odors caused by pets and cooking.
It actually purifies the air in your home using specialized germicidal UV light waves along with a proprietary catalytic process that creates enviroscrubbing molecules of oxygen and hydrogen, just like nature's outdoor scrubbers.
Air Scrubber Plus® extends the life of your existing heating and air conditioning system by trapping dirt, dust and other debris before it enters through the filter, damaging the coils and blower that keep your system running effectively.
Quick Facts:
Designed to help reduce indoor air quality risks known as Sick Building Syndrome
Attaches to the ductwork of your HVAC system
Requires only 18 watts of electricity
Uses proprietary light waves along with a specialized catalytic process to keep your home cleaner 24/7
Complies with all Federal EPA, FDA & OSHA regulations
CARB Certified
Made in the USA
Air Scrubber Plus® with ActivePure™ technology is the latest advancement of a scientific breakthrough originally developed in cooperation with NASA for use in the International Space Station.  ActivePure™ technology is recognized as the exclusive Certified Space Technology by the Space Foundation in its category.
The Air Scrubber Plus® is 50 Times More Powerful Than Typical HVAC Filtration!
If you would like to talk to us about an Air Scrubber Plus® for your home, give us a call at (763) 515-6411 or schedule an appointment with us online at:
Looking to keep your home healthy and save money? Check out the Rol Air Total Home Care 365!