When summer days get hotter, air conditioning can be so awesome! It feels so good to escape the heat and cool down in the comfort of your home. At least it feels good and cool until the first skyrocketing energy bill comes in. Then things really heat up! How can you keep your house cool but also save money on the cost to cool it? We've checked with the energy experts and HVAC technicians and found seven tips to help you stay cool and save money on air conditioning.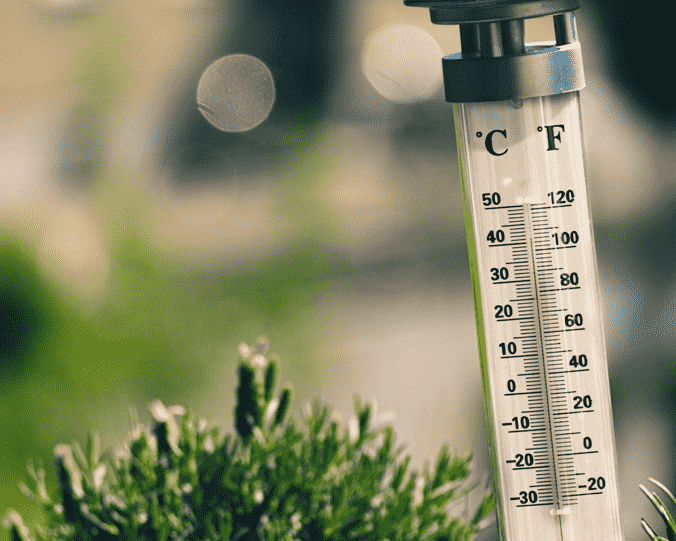 When temps rise, save money on your energy bill with these 7 tips!
1. Set your thermostat to a reasonably good temperature. Before setting your thermostat to 72 degrees because that's room temperature, keep in mind that we tend to dress in lighter clothes during the summer. Try slowly raising the temperature in the range of 73 to 79 degrees to see what's comfortable for your house. The U.S. Department of Energy specifies 78 degrees as the ideal compromise—cool enough and saving you money. Every degree you go up from 72 saves you three to five percent on your air conditioning energy costs.
2. Raise the temperature whenever you leave home. Whenever nobody will be home for two or more hours, you can save energy by raising the temperature by seven to ten degrees. The Department of Energy says doing this consistently will save you as much as 10 percent on cooling costs.
3. Save money at night. When you sleep, your core body temperature lowers. So you may be able to raise the temperature a bit at night, especially if you use lighter sleepwear and lighter bed coverings.
4. Switch to a smart thermostat. You can program a smart thermostat to raise the temperature ten degrees during the day when everyone is at work and then lower it 30 minutes before the first person returns home. Some smart thermostats have even more advanced features to help you truly optimize the temperature setting to save you the most money.
5. Seal up the leaks. The older your home, the more likely cold air is seeping outside. Install new weatherstripping and caulk around doors and windows. We recommend getting a home energy audit from your utility provider to find all these leaks and to find the best things you can do to make your home more energy efficient.
6. Replace older air conditioning units with energy-efficient models and wait by the mailbox for the rebate check. Just like newer furnaces, today's air conditioners really do work much more efficiently than older ones. If you fear you're paying too much to keep your house cool, it would be worth asking an HVAC salesperson about your options. We are currently offering a 12-year parts & labor warranty! Additionally, our local utility companies (Xcel, Centerpointe, Elk River Municipal, and others) offer rebates for replacing aged units with energy efficient ones. You don't even have to mess with the rebate paperwork, we do that all for you at Rol Air and then the utility company mails you a check. Our customers who purchase a new Furnace and AC get back $400!! That's a pretty sweet deal!
7. Call an HVAC technician to tune-up your air conditioning unit. Regular inspection and maintenance is vital to keeping your air conditioner working at its best. If you suspect that it's not cooling properly, a technician will be able to determine whether there's a problem other than it's a really hot summer. Follow these tips and you'll save money while keep your house reasonably cool this summer.
Interested in learning more about our 12-Year Parts & Labor Warranty, Energy-Efficient Rebates, or to schedule a service? Schedule a consultation with a certified technician quickly and easily.
Looking to keep your home healthy and save money? Check out the Rol Air Total Home Care 365!