Your Trusted Plumber in Elk River, MN, and the Surrounding Areas
Who do you think of calling when you need a plumber in Elk River, MN, or nearby areas? Keep in mind that you should not wait until you have water spewing all over the place to call someone. Knowing well ahead of time is key to avoiding additional or worse damage caused by a plumbing issue. 
When you take the time to research for a local plumbing company in Elk River, MN, and the surrounding communities, rely on the team that can take care of a variety of issues and needs, from water line repair to leak detection. Let your search end at Rol Air Plumbing & Heating. We are the team that you can trust to get the job done for a reasonable cost.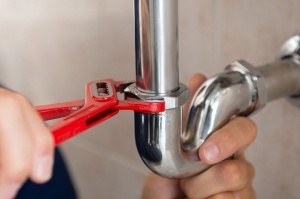 What Sets Us Apart
You might think that every plumbing company is more or less the same. In reality, there are a lot of differences from our company to the next. For example, it's crucial to know ahead of time the types of plumbing services that you will need. Rol Air Plumbing & Heating can provide you the solutions you need, even during emergency situations. Many companies can only be reached during regular business hours. We also ensure your complete satisfaction. We have been in business for years, which makes us the most reliable team in the local area. We provide a wide variety of services and we make sure our customers are always satisfied with our work. 
Plumbing Repair - When it comes to plumbing repair, we are ready for anything. Sometimes, homeowners hesitate to call in a plumber because they are worried about how much the repair will cost or how extensive it will be. When you call us, though, we aim to take your worry and stress away. We'll handle the plumbing so you don't have to worry anymore.
Bathroom Plumbing - Has something gone wrong in your bathroom? Whether you need a faucet repair, a toilet repair, or some other bathroom fixture repair, we are here for you. We'll come out, discuss what you've experienced, then check it out for ourselves. Once we know what's gone wrong, we'll work with you to devise the solution that is best for you and your family. When that's in place, we'll get to work and stay until the job is done.
We can do bathroom plumbing replacement, too! Do you need a toilet installation? We'll help you find the perfect toilet to complement your decor and work just the way you need it to. Select your toilet and let us handle the rest. We'll get it installed perfectly so you can trust it to work well for years to come.
We'll take care of all your leaks and clogs, too. Just point us toward the drain and we'll have it cleaned out fast!
Kitchen Plumbing - Got problems with your sink, garbage disposal, or the water lines to your dishwasher or your fridge? Give us a call and our expert plumbers will get to you fast. We'll determine what is causing the problem, let you know, and discuss any repair options with you. When we've agreed on the repair that's best for your family and your home, we'll get to work and fix it fast.
We know that you need your kitchen running well in order to live well in the northwest Twin Cities area. That's why we'll do our best to offer same-day service and help you get your life back to normal fast. Do you need a plumbing replacement in your kitchen? We can help you replace pipes or find that new sink and faucet combination that will complete your home's new look.
Water Heaters - When you don't have hot water – or you don't have enough of it – you need your water heater repaired fast! We'll get to you, check out what has gone wrong, and help you get back to your hot showers quickly. No matter what it takes, we'll make sure you have a functioning water heater as soon as possible.
If a plumbing replacement is a better choice for your water heater than a plumbing repair, we'll help you find the perfect water heater for your family and your needs. We'll make sure that it will give you plenty of hot water and that it comes from a manufacturer that we trust. Then we'll handle ordering it and installing it according to its specifications, so you can be sure it's in just right. We'll always test it and encourage you to test it before we leave, just in case something isn't working according to your standards.
Emergency Plumbing - You never know when a burst pipe can affect your home. Rol Air Plumbing & Heating is the local expert for emergency plumbing in Elk River, MN, and nearby areas.
Water Heater Repair - Ensure your convenience even when hot water is not available all of a sudden by relying on our team for water heater repair.
Sump Pumps - Regardless if it is in your basement or another part of your home, we can maintain or repair your sump pump.
Well Tank - At the first sign of trouble with your well tank, reach out to our team to provide the prompt solution it needs.
Water Line Repair - Once you are dealing with a damaged water line, it is best to contact Rol Air Plumbing & Heating to address the issue in a timely manner.
Drain Cleaning - A clogged drain is never a good thing. We are the local expert in drain cleaning in Elk River, MN, and nearby areas as well.
Regardless of how carefully you maintain your plumbing, there are times when you will be in need of emergency plumbing. It might be because something goes wrong in the middle of the night, on a Friday, during a holiday weekend. If that's the case, you certainly don't want to wait until the next morning to call us for fast plumbing repairs in Elk River, MN, and the surrounding areas. It could also be that you have had some type of catastrophic failure in your plumbing system and you need help right now, not later in the day. We can provide these services for you so you don't have to worry about damaged plumbing ruining everything else inside your home.
We offer a comprehensive range of plumbing services in these locations:
Elk River, MN 

and nearby areas
Schedule an Appointment for Plumbing Services
Get in touch with Rol Air Plumbing & Heating today for a range of solutions provided by a leading plumber in Elk River, MN, and the surrounding areas. Call us today or fill out the form to learn more about our: